Speaker Details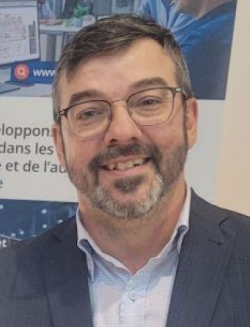 Vincent Remillard
Vincent Remillard holds Master and Bachelor degrees in mechanical engineering (mechatronic option) from École Polytechnique de Montréal. He completed many complex studies and projects in fields such as CAD/CAM, mechanics, hydraulics and pneumatics, robotics, control, programming and automation. Since January 2007, he is a member of the Automation Studio™ team as an application and project engineer. He is the Corporate Accounts Manager and leads a team which works on special projects and specific customer requests, such as advanced OEMs systems and simulation of manufacturers' components. Vincent also provides training and participates actively in the functional evolution of the software.
---
Presentation
Autonomous machine: An innovative integrated development and simulation approach
The electrification of mobile hydraulics is underway. It creates opportunities and challenges. To succeed - while optimizing development time, system performances, and resources- OEMs and systems integrator create digital twins to improve engineering analysis and concept validation. Innovative design and simulation is demonstrated using Automation Studio™ on multi-technological autonomous driving system containing electrical drive and 2 steering modes, Orbitrol and Steer-by-wire. Hydraulic systems are modeled using preconfigured components from manufacturer catalogues. Performances are also simulated from a 3D Manifold block design. The electrohydraulic systems is co-simulated with an external controller. Road conditions and HMI will also be implemented.