New Products on Show
DAY 1: Fans-Tech Electric America exhibits vast portfolio of componentry
Fans-Tech Electric America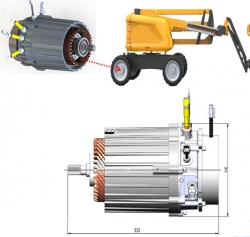 Fans-Tech Electric America is presenting a multitude of systems at this year's expo, with components designed for an array of sectors and applications, including for boom lifts, golf carts and forklifts.
---
DAY 1: Moog Construction showcases systems for designing and manufacturing off-highway machines
Moog Construction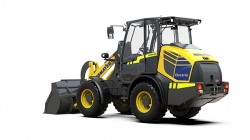 Moog Construction is exhibiting TerraTech, an ecosystem for compact construction machine manufacturers seeking to efficiently design, build and commercialize all-electric, zero-emission vehicles. The company's operator-assist automation solutions are also on show.
---
DAY 1: Würth pluggable controller for power distribution units
Würth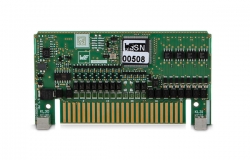 The CDM-A16, a pluggable controller for power distribution units of hybrid and electric vehicles, is on display at Würth Electronik's booth. The solution expands control and diagnostic function by providing up to 16 channels for fuse status monitoring and relay activation. The peak-and-hold function also enables it to reduce heat generation within a system. Using two CAN ports, the controller can communicate with multiple buses and enables advanced filter and gateway functions.
---
DAY 1: Twin Disc pump drive enables hydraulic pumps and e-motors to be installed in diesel and hybrid electric applications
Twin Disc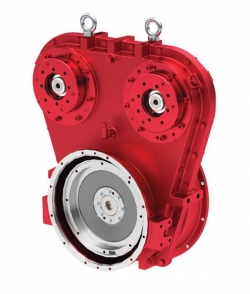 Twin Disc is showing the AM050 Pump Drive, capable of a maximum output of 500hp (373kW) and a 1:1 ratio at 1,800rpm.
---
DAY 1: Modine displays state-of-the-art thermal management solutions
Modine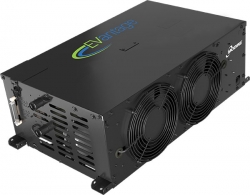 Modine, a developer of thermal management solutions, is displaying two of its products: the EVantage L-CON (Liquid-cooled Condenser) battery thermal management system (BTMS) and the EVantage Electronics Cooling Package (ECP).
---
DAY 1: CrossControl demonstrates its open software platform and window management solution
CrossControl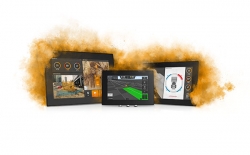 CrossControl is exhibiting its display portfolio, which is powered by the latest ARM and x86 application processors. The company's displays range from 3.5in to 14in. The smart solutions can support the next generation of terminals and modular HMI concepts where information can be moved dynamically – and even between different screens.
---
DAY 1: Flodraulic's Hybrid System Gateway delivers effective drive, control and cooling component management
Flodraulic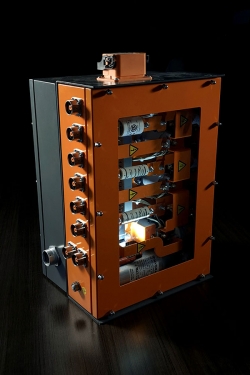 Flodraulic is highlighting its Hybrid System Gateway (HSG), a central subsystem interface for controlling all drive, control and cooling components in high-voltage electrified mobile machines.
---
DAY 1: Drive System Design showcases flexible open-platform inverter with customizable hardware
Drive System Design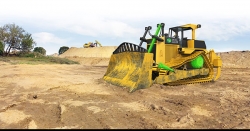 DSD is exhibiting its updated open platform inverter (OPI) at this year's expo. The company's latest solution enables the efficient development of motor control systems, from the concept stage through to the first prototype being made.
---
Ruggedized stereo vision platform
Mach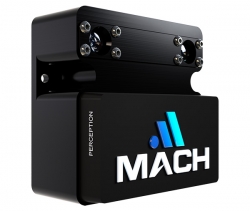 Mach will proudly showcase a new autonomous equipment solution at the upcoming expo. Get ready to witness the unveiling of the Mach Perception, a revolutionary innovation that will drive the future of autonomy.
---
Xymox Technologies and the Rafi Group have joined forces to deliver unrivaled HMI systems. With engineering and manufacturing capabilities in the US, Europe and Asia, the companies' full-solution offerings showcase cutting-edge innovation.
---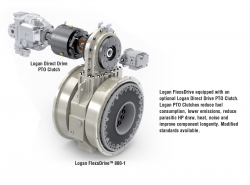 Rated at 800hp/600kW under continuous duty, the Logan 800-1 FlexaDrive is a self-contained, single-tower, multiple-pump-drive gearbox that provides full engine power between engine and transmission.
---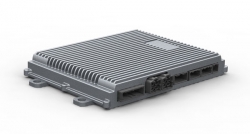 MRS Electronic (Dayton, Ohio) will introduce the all-new NeuralPlex Controller ECU at the expo.
---
Digital hydraulic solutions
Walvoil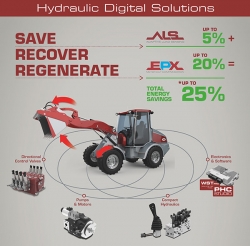 The continuous technological evolution of more efficient, cost-effective and environmentally friendly solutions is driven by compliance with international regulations to grant greater autonomy to the new hybrid and electric drive technologies.
---
Next-generation modular technology platform for HMI and onboard computing
CrossControl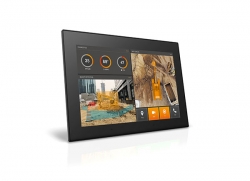 CrossControl will show its next-generation modular technology platform for HMI and onboard computing. Powered by the latest ARM and x86 application processors, its latest displays come in sizes ranging from 3.5in to 14in.
---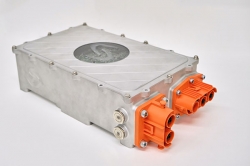 To help further accelerate time-to-market for its customers' EV technology, Drive System Design (DSD) is optimizing and rolling out an updated version of its Open Platform Inverter (OPI), which enables quick and efficient development of motor control systems from initial concept to first protype.
---
Actuator solutions for the off-highway sector
Thomas Magnete USA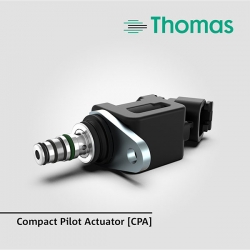 Thomas Magnete will be showcasing two new products at the expo.
---
Large, illuminated, watertight pushbuttons
Otto Controls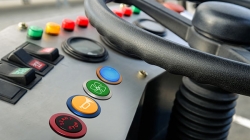 Otto Controls' new LP30M 30mm-diameter pushbuttons are rugged, attractive and LED illuminated in six standard LED colors.
---
Custom solutions from low to high voltage
Wurth Electronics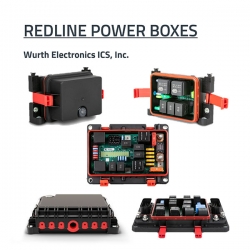 Wurth Electronics ICS has developed and produced customer-specific solutions for power distribution, signal transmission and function control in mobile machines and commercial vehicles for over twenty years.
---
High-performance road lidar technology
XenomatiX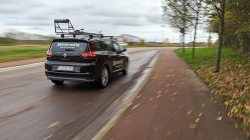 XenomatiX has developed XenoTrack, a high-precision road lidar for digitizing and scanning the road.
---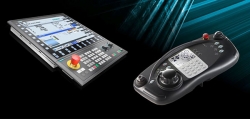 Rafi, a technology leader in HMI systems, seeks to offer its customers the right solution for every project, achieving this with its platforms. Glasscape by Rafi sets benchmarks in capacitive touch technologies when it comes to the user experience. Here, haptic, visual and acoustic feedback meet balanced ergonomics.
---
Power distribution unit for hybrid and fully electric machinery
Flodraulic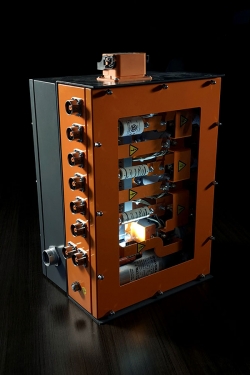 The HSG – Hybrid System Gateway was developed by Flodraulic Group based on the company's experience of implementing electrification projects in North America and Europe and taking into account the needs and the wishes of customers.
---
Customizable, easy-to-integrate sensor fusion solutions
Trimble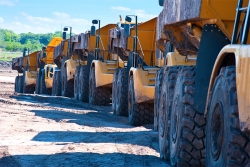 Trimble offers solutions that meet the unique challenges its customers face on their path to autonomy. Whether it's end-to-end solutions or individual building blocks, the company works with clients to deliver autonomy on their terms.
---
Adaptable rotor position sensors
Lenord+Bauer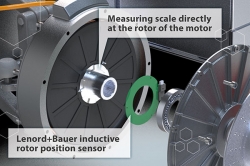 Lenord+Bauer will present the innovative VarioCODER at the expo. The inductive rotor position sensor is a flexible, tailor-made solution based on a modular approach, which perfectly adapts to customers' engine designs.
---
New touchscreen for harsh environments
CVEP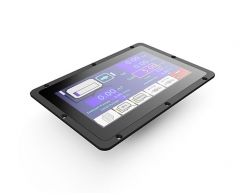 The new CVEP CANDi7 touchscreen is designed to display information in agricultural and construction machinery and commercial vehicles.
---
Finger-operated joystick with active feedback
Gebrüder Frei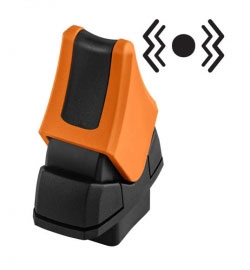 Industrial truck operators face increasing requirements and higher risk of accidents. It's crucial to support them effectively, and active feedback through the main control element is the top choice.
---
Modular onboard energy solutions
Eco Power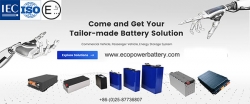 Eco Power's modular onboard energy solutions can be installed seamlessly in clients' integrated battery systems. Modularity minimizes the effort involved in purchasing variation, inventory control and servicing.
---
Customizable work lighting
Tyri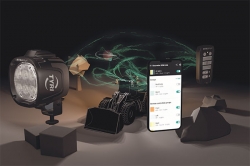 Tyri will present its new, patented lighting system, INTELLilight, at the expo.
---
Transparent display windshields
Lumineq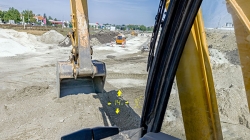 The Lumineq transparent display, embeddable into windshields of industrial vehicles, conveys crucial data to operators and enhances safety and ergonomics.
---
Vents to protect heavy-duty equipment from harsh environments
Sealing Devices
Sealing Devices, a Gore authorized distributor, will showcase Gore Protective Vents to protect technology from the new challenges faced by heavy-duty equipment. Interconnected technology – from telemetric data to the IIoT – is enabling heavy-duty agricultural, construction and material-handling equipment to be more efficient and productive and less labor intensive.
---
Rugged battery thermal management system
Modine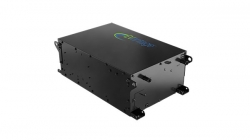 Combining proprietary Modine heat exchanger technology with tailored, smart electronic products, the EVantage Battery Thermal Management System with Liquid-Cooled Condenser (L-CON BTMS) delivers a complete solution, including a master thermal controller and Modine-developed firmware.
---
Electronically controlled cab suspension
Link Manufacturing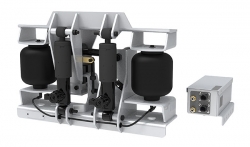 The ROI Cabmate is an electronically controlled cab suspension that gives drivers best-in-class isolation from harmful vibrations and impacts associated with off-highway applications. The suspension is programmed to keep the cab in a comfortable, level position, regardless of external forces. Damping is also applied during braking and accelerating to stop the cab from diving and lifting. By reducing pitch, roll and impacts, the steering position, machine stability and a steady line of sight are maintained.
---
Pump drive with e-motors for hybrid electric applications
Twin Disc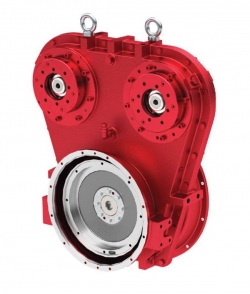 As a leader in power transmission technology, Twin Disc meets a variety of hydraulic system needs with industrial pump drives available in speed-increasing and speed-reducing configurations. At the expo, the company will introduce its new AM 050 pump drive with e-motors, which brings outstanding performance to hybrid electric applications.

---
High-speed data communication for multiple industries
Powell Electronics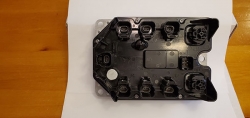 For the first time ever, a joint working group across several industries is to standardize how cutting-edge vehicles can achieve secure, high-speed data communication for remote viewing cameras and high-performance command and control.
---
I/O interface for full control of linear movement
Linak US

With increasing demand for advanced features and control options for actuators, Linak offers the Actuator Connect configurator for full control of linear movement.
---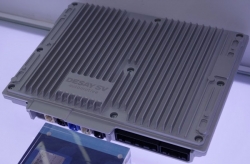 Desay SV is one of the world's leading mobility technology companies and is committed to being the preferred partner in mobility transformation. At iVT Expo it will exhibit its interior cabin electronic technology including Qualcomm Snapdragon 8155-powered IVI domain controllers, telecommunication boxes, wireless chargers and USB hubs.
---
Open and powerful IoT gateway
CoreM2M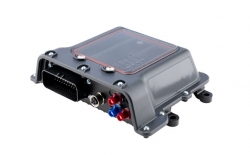 CoreM2M will highlight IoT devices and connectivity in Chicago and will introduce its newly Verizon network-certified Owasys OWA5X IoT gateway, featuring IP67 waterproofing and industrial-grade dust protection.
---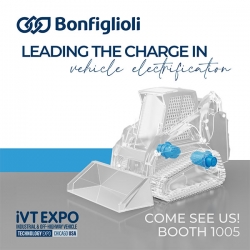 Bonfiglioli, a pioneer in gear manufacturing, will showcase its latest groundbreaking electric motors at the expo.
---
Power distribution and electronic control systems
Epec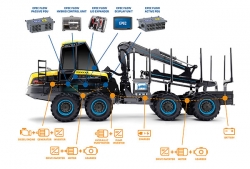 Epec will be exhibiting the Epec Flow, a comprehensive and customizable solution for electrifying non-road mobile machines and commercial vehicles, optimizing their performance and improving the total cost of ownership.
---
Powerful inverter for motor control development
Drive System Design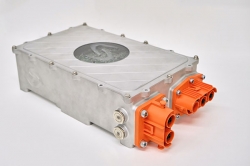 To accelerate time-to-market for its customers' EV technology, Drive System Design designed and continues to optimize its Open Platform Inverter (OPI), which enables quick and efficient development of motor control systems from initial concept to first prototype.
---