New Products on Show
DAY 1: Fans-Tech Electric America exhibits vast portfolio of componentry
Fans-Tech Electric America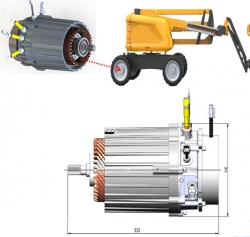 Fans-Tech Electric America is presenting a multitude of systems at this year's expo, with components designed for an array of sectors and applications, including for boom lifts, golf carts and forklifts.

Such technology includes the company's YST4H4-X motor developed for boom lifts. The YST4H4-X is capable of 48V DC-120V DC and can operate at speeds of 1,200rpm to 6,000rpm. It is IP67 rated.

Alongside the YST4H4-X sits the YST8H4-X lifting motor for forklifts. This solution is naturally cooled and has a power rating of between 8kW and 17kW.

"Fans-Tech Electric is excited to share our latest in EV drive and hydraulic motor technology at the iVT Expo," said William Bujanovich, sales manager Americas at Fans-Tech Electric America. "At this year's expo are a number of our more popular systems, including the YSP5H4 forklift drive and the YST4H4 AWP boom lift, scissor lift and golf/utility cart motor drives. With increased power and efficiencies, the Fans-Tech AC-DC motor drives offer higher kW and RPM with a reduced noise output for greater occupant comfort."

For more information, visit Fans-Tech Electric at Booth 1516.