New Products on Show
DAY 1: CrossControl demonstrates its open software platform and window management solution
CrossControl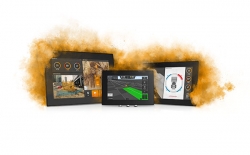 CrossControl is exhibiting its display portfolio, which is powered by the latest ARM and x86 application processors. The company's displays range from 3.5in to 14in. The smart solutions can support the next generation of terminals and modular HMI concepts where information can be moved dynamically – and even between different screens.

The company is also revealing details of its latest CCpilot V510 and V710 displays. The 5in and 7in ARM-based displays benefit from softkeys for intuitive, tactile interaction in difficult conditions. Also on display is the CCpilot X1200, a multipurpose onboard computer with an Intel quad-core CPU for business logic and advanced HMIs.

Demonstrations of CrossControl's open software platform and window management solution – built with a windowing framework for Linux – are also taking place at the expo. The solution provides development teams with the support required to create one HMI system capable of deploying multiple dynamic applications. The open platform also offers interoperability for third-party peripherals and systems such as cameras and weighing systems.

"As you can see at the booth, the CrossControl onboard computing and display platform supports OEMs and system suppliers with the next generation of terminals and modular HMI concepts," explained Finn McGuirk, communications officer at CrossControl. "A popular draw is our AI demonstration, which shows how our display – combined with an ethernet camera – can deliver object detection in the cab."

To find out more about CrossControl, visit Booth 1118.