New Products on Show
DAY 1: Drive System Design showcases flexible open-platform inverter with customizable hardware
Drive System Design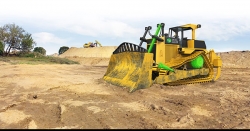 DSD is exhibiting its updated open platform inverter (OPI) at this year's expo. The company's latest solution enables the efficient development of motor control systems, from the concept stage through to the first prototype being made.

The inverter solution is flexible by design, allowing it to be used within a vast range of industries, including those working within the agriculture, construction and mining sectors. DSD describes the OPI as 'unique' because customers have access to all aspects of the inverter, including customizable hardware, drivers and flexible, modular plug-and-play software.

In addition to showcasing its power electronics capabilities, DSD is highlighting its knowledge of heavy-duty transmission design, motor development and critical control systems.

DSD engineer Elena Belenguer is taking part in the Electric & Hybrid Technology track at the iVT Expo conference, where she will speak about improving product development speed and cost by implementing a cross-platform strategy. She will also highlight existing challenges in building a bespoke powertrain for individual applications, introduce DSD's electrified powertrain optimization process (ePOP) and how it reduces time and cost, and discuss the numerous benefits of an enhanced, cross-platform powertrain design process.

"We're delighted to be participating in the Off-Highway Vehicle Technology Expo and showcasing our extensive electrified propulsion system capabilities," said Ben Chiswick, director of engineering business development at Drive System Design. "One thing we're highlighting is our power electronics expertise, exhibited by our newly updated open platform inverter. Our latest inverter model is unique in that it's incredibly flexible, can be used for a variety of applications across the off-highway spectrum, and ultimately can save our customers up to three times the cost and time in comparison to starting to build an inverter from scratch. This type of agile tool gives our customers a leg up in swiftly determining the most efficient and effective motor for their needs."

To find out more about Drive System Design, visit Booth 1224.