New Products on Show
DAY 1: Modine displays state-of-the-art thermal management solutions
Modine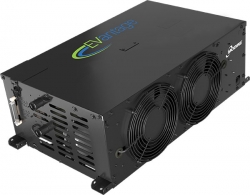 Modine, a developer of thermal management solutions, is displaying two of its products: the EVantage L-CON (Liquid-cooled Condenser) battery thermal management system (BTMS) and the EVantage Electronics Cooling Package (ECP).

Combining the company's heat exchanger technology with tailored smart electronic products, Modine's L-CON BTMS is a complete solution and includes a master thermal controller which uses firmware developed in-house to control battery temperature in all environments. The L-CON BTMS is also resistant to dirt and debris, enabling its use in harsh environments.

Sitting alongside the L-CON BTMS is Modine's EVantage ECP, which was developed to cool down electric vehicle power electronics and traction motors. Modine has combined its heat exchanger technology with smart electric fans to deliver an effective solution in an easy-to-integrate package.

The company's EVantage thermal management system portfolio offers solutions to maintain temperature in battery, power electronics and passenger comfort subsystems for a wide range of commercial and specialty vehicles and off-highway machinery.

"As a US-based thermal management systems provider, Modine is ideally positioned to serve the needs of domestic off-highway machines as demand continues to grow," said the company's Gina Maria Bonini, vice president and general manager of advanced thermal systems. "We are committed to helping our customers bring their zero-emissions industrial vehicle platforms to market faster, and the L-CON BTMS and ECP allow us to do this for even the most demanding applications. I am grateful for the work of our engineering team, who continue to develop products that meet end-user demands for durability, reliability and performance."

To discover more about Modine's products, visit Booth 804.