New Products on Show
DAY 1: Twin Disc pump drive enables hydraulic pumps and e-motors to be installed in diesel and hybrid electric applications
Twin Disc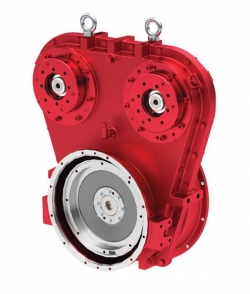 Twin Disc is showing the AM050 Pump Drive, capable of a maximum output of 500hp (373kW) and a 1:1 ratio at 1,800rpm.

Available in single- and dual-tower options, the AM050 has 1.00:1, 0.87:1 and 0.77:1 pump tower ratios. There is a choice of four different pump pads. The company's solution benefits from SAE #3 to SAE #1 input and output housings, and an SAE 11.5in to SAE 14in input and output flywheel connection. In addition, the AM050 has SAE A through SAE E pump pads and splines.

"The AM050 is a rear engine mounted pump (RePTO) drive with single or dual towers that allow for hydraulic pumps and/or e-motors to be installed in diesel applications and in hybrid electric applications," said Doug Hixon, Twin Disc's sales manager for North America. "In a hybrid application, the diesel engine and electric motor work together in a parallel system to assist one another in high-demand phases of machinery operation. Oftentimes the HP of the diesel engine can be lowered, creating better efficiency, lower maintenance costs and overall lower cost to operate a piece of machinery."

For more information, visit Twin Disc at Booth 1210.