New Products on Show
DAY 1: Moog Construction showcases systems for designing and manufacturing off-highway machines
Moog Construction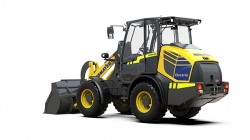 Moog Construction is exhibiting TerraTech, an ecosystem for compact construction machine manufacturers seeking to efficiently design, build and commercialize all-electric, zero-emission vehicles. The company's operator-assist automation solutions are also on show.

Instead of sourcing and buying components from a multitude of different suppliers and trying to integrate them, TerraTech comes fully integrated and works on multiple machine types and sizes, enabling OEMs to design scalable and configurable machines.

Using TerraTech, OEMs no longer have to build machines by integrating systems and products from multiple suppliers. TerraTech partners motion control software, durable hardware – such as electric cylinders, vehicle control modules, motors and controllers – and energy management and digital insights through the Internet of Things.

"TerraTech enables OEMs to build a machine now that continually improves with updates and new features for future needs," commented Dave Grabau, product line manager at Moog Construction. "We simplify prototyping and help OEMs get to mass production faster by using TerraTech's modular ecosystem."

In addition to TerraTech, Moog is showing its operator-assist solutions, which can be installed at the factory or as upgrades for machines. At the booth, the company's engineers are showing how their autonomous solutions enable features such as object detection, collision mitigation, personnel detection, automated work functions and path planning. This enables users to optimize and automate machine speed and direction.

"We increase productivity, safety and predictability with our automation solutions," added Joe Baldi, director of automation and robotics at Moog Construction. "Customers get a turnkey approach applying the right solution to a project, so a company quickly gets operational on the job site."

For more information, visit Moog Construction at Booth 1006.