Products on Show
How electrification will change the role of aftersales care
Pico Technology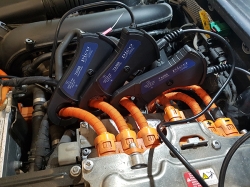 Pico Technology will be at iVT Expo sharing a presentation that explains the challenges and solutions for aftersales staff in maintaining quality performance during the transition to electrification. At Pico's booth you will be able to discuss all aspects of electrical, hydraulic, pressure, NVH and serial communications, plus other potential problem areas.

The Pico electric vehicle (EV) kit has been designed to provide the essential measurement tools you will need for both high- and low-voltage systems, including insulation testing and safety testing. It is based on the market leading PicoScope 4425A with PicoBNC+ technology and is supported by brand-new EV guided tests in the PicoScope 7 automotive software. The combination of Pico's research, practical application experience, equipment and built-in guidance means that technicians can be confident in safely handling the new challenges of high-voltage systems.

Pico is showing its combination of PicoScope 7 and the PicoScope 4425A off-highway kit, delivering technicians and service engineers the easiest and most revealing system for fast and accurate diagnosis. PicoScope gives aftersales teams the equipment they need to fix problems in the field and share that data with experts in the central office, ensuring that best practice is deployed throughout the network.

PicoScope covers all equipment including the ability to check power transfer and communications with accessories, test all types of powertrains (full electric, hybrid, hydrogen, fuel cell, diesel, gasoline and LPG) and keep equipment operating at peak performance despite demanding conditions and increasingly strict requirements. By combining the high-precision WPS600 hydraulic transducers with a PicoScope kit, you can now look at hydraulic pressures in the same timeframe as control signals, giving complete visibility of how a system is operating. You can now see the exact moment valves start to move in the hydraulic system and compare this directly to the relevant electronic controls. You can also investigate stalling and 'no start' conditions due to the comprehensive coverage of engine and electrical systems.

The PicoScope software is regularly supported by free updates for all customers, so technicians can always take advantage of the latest advances over the entire life of their PicoScope system; maximizing technician efficiency, avoiding unnecessary parts swapping and reducing equipment downtime.