Products on Show
The ultimate positioning system solutions for industrial vehicles
Trimble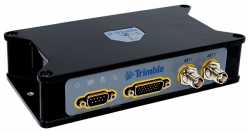 Positioning and orientation are fundamental to the navigation of any autonomous industrial vehicle. Knowing the precise location and directional orientation of a vehicle plays a key role in guidance, steering, optimal path planning and obstacle avoidance to ensure a safe and efficient working environment.

Trimble has been developing and advancing positioning technology and machine control for over 30 years, offering hardware, software and correction services to enable the most advanced autonomy systems – foundational elements of an ever-expanding portfolio of Trimble technology that will help enable greater levels of vehicle autonomy for years to come.

Trimble's affordable autonomous positioning kit combines cutting-edge technology in GNSS positioning, inertial navigation, orientation and heading, and is designed as scalable, easy to upgrade platforms for more robust positioning and localization add-ons. These pre-configured offerings make positioning integration easy and fast for customers. Alternatively, Trimble can design a fully customizable solution to fit more precise integration requirements. Elements include:

Trimble ProPoint Positioning Engine
Trimble ProPoint is the fifth generation high-precision positioning engine from Trimble. It is engineered to provide position and orientation data from the fusion of GNSS signals, globally accessible high-accuracy correction services, and measurement data from a variety of sensors. Game-changing performance enhancements include leveraging BeiDou 3 signals, the ability to use single-frequency signals and leveraging robust estimation to remove 'bad' measurement data.

Trimble BX992 Enclosures
A multi-purpose, epic performing, highly versatile board makes other manufacturers' boards and enclosures seem, well, boring! The BX992 is a dual-antenna receiver with an integrated inertial navigation system that supports position and orientation at high update rates. The flagship BD992-INS receiver module offers geodetic grade positioning, is sub-centimeter capable, and is robust enough to handle the rigors of machine control.

Trimble RTX Positioning Services
Trimble RTX is a family of real-time GNSS positioning services offering next-level accuracy and maximizing workflow performance with the freedom to work anywhere. RTX delivers cenitmeter-level, repeatable results every time in as little as three minutes, even in the most remote locations – thanks to satellite delivery. This means no reliance on base stations, range anxiety using RTK or worry of cellular outages when working in extreme, isolated environments.

Stop by Trimble's booth to learn more about the performance and versatility of Trimble positioning solutions – affordable, easy to implement technology to meet the demands of customers worldwide wherever they may be on their autonomy journey. Experience autonomy on your terms.